Thursday, September 9th, 2010
White House Chair to speak in Dallas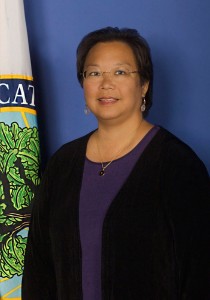 Dallas — Come meet Daphne Kwok, the newly appointed chair of the President's Advisory Commission on Asian Americans and Pacific Islanders, and learn how the federal government is working to help improve the lives of the Asian American and Pacific Islander communities.
"The commission and the White House Initiative on Asian Americans and Pacific Islander are our vehicles to help the federal government make a difference in our community," said Ms. Kwok, who is the keynote speaker for the Dallas Fort Worth Asian American Citizens Council's 10th Anniversary Awards Banquet. The event will be held at 7:00 p.m. Saturday, September 18th, 2010, in the Renaissance Hotel in Richardson, Texas.
Other presenters will include Iowa State Senator Swati Dandekar, and the two Texas gubernatorial candidates, Texas Govenor Rick Perry and The Honorable Bill White.
"Our slogan has been 'Key People in Key Places', and Ms. Kwok is certainly among the key people who can help the API community," said DFW AACC president Jane Jan.
The Advisory Commission is part of a White House Initiative to improve the lives of Asian American and Pacific Islander (AAPI) communities underserved by federal resources.
Ms. Kwok is currently the Executive Director of Asians and Pacific Islanders with Disabilities of California. She previously served as the executive director of the Angel Island Immigration Station Foundation, the Asian Pacific American Institute for Congressional Studies, as well as the Organization of Chinese Americans, a national civil rights organization with more than 10,000 members. She was also the first-elected Chair of the National Council of Asian Pacific Americans.
A VIP reception will be held at 6 p.m. followed by dinner and program at 7:00 p.m. Community tables of 10 are available for $500.00. Individual tickets are $60.00 each. Ticket requests may be faxed to 972-398-1377. For more information please e-mail: David.Way@InnovativeWayInc.com.
DFW AACC is a non-profit 501(c)(3) organization whose mission is to promote and assist Asian-American involvement in local social, political and civic activities that increase community awareness, improve representation and enhance the quality of life.