2011 DFW AACC Banquet is coming! As always, DFW AACC leads the way by bringing many world leaders to you. We will do so this year too.
September 24th, 2011 6:00 PM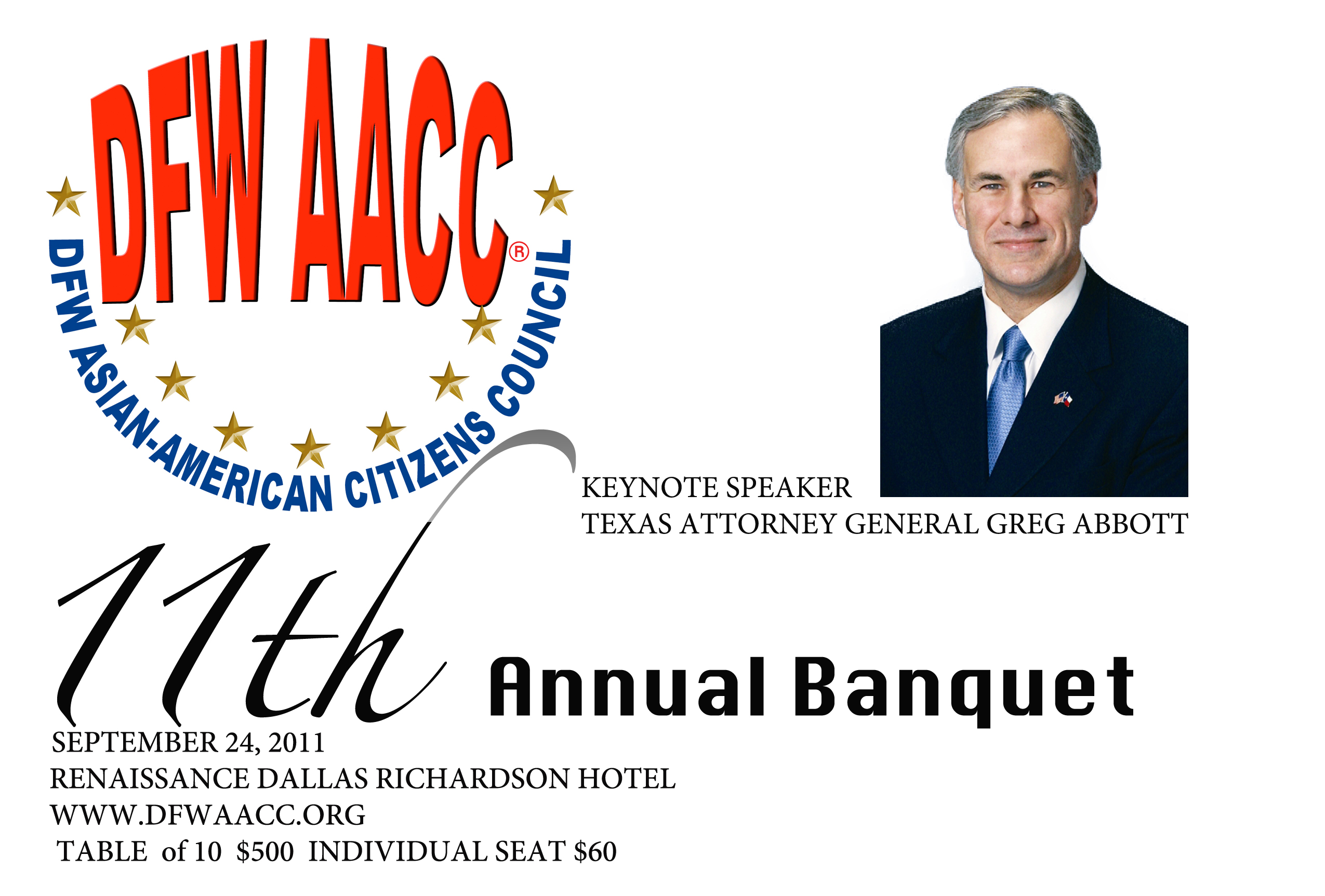 at
Renaissance Dallas Richardson Hotel
900 E. Lookout Dr. Richardson, TX
2011_DFWAACC_Banquet Sponsorship_Form
TEXAS ATTORNEY GENERAL GREG ABBOTT IS DFW AACC KEYNOTE
Dallas – Greg Abbott, the 50th Attorney General of Texas, will be the keynote speaker at the Dallas/Fort Worth Asian-American Citizens Council's 11th Anniversary Banquet on Sept. 24, 2011.
Attorney General Abbott has made protecting children and families  the focus of his administration. Shortly after taking office, Attorney General Abbott established a Cyber Crimes Unit to arrest criminals who use the Internet to prey upon children. Since taking office, General Abbott has collected more than $20 billion in child support for Texas children.
A native Texan and an active participant in the community, DFW AACC president Suma Kulkarni, along with DFW AACC chairwoman, Jane Jan, are looking to the Attorney General, who has been a life-long public servant,  for guidance on how the Asian American community can  enthusiastically participate in the political process, thereby continuously provide a voice for this community.
Hon. Kesha Ram will join the the Attorney General as a guest speaker.  Hon.  Ram is currently serving as the youngest member of the Vermont Legislature and the youngest state legislator in the nation.  Hon. Ram  is the torch-bearer  of her generation in politics and public service, who  strives to  engage and empower her community to be a part of the political process, rather than apart from it.
Jennifer Nguyen, DFWAACC Chair Emeritus, indicated, "The DFW AACC has  built  community programs and services to address some of the growing needs in these tough economic times.  We further work to foster youth leadership and volunteerism and ask for continuous support so that together we can make a positive difference in our community".
Sixteen mayors from the DFW metroplex and various community leaders have  been invited to the event. The DFW AACC will also take this opportunity to acknowledge and recognize the leadership and dedication of Asian American members of the community for their continuous outstanding contribution to  the DFW and North Texas community.
The banquet will be held at the Renaissance Hotel, 900 E. Lookout Drive,  Richardson, Texas.  A VIP reception will be held at 6 p.m. followed by dinner and program at 7 p.m.  Community tables of 10 are available for $500. Individual tickets are $60 each. Ticket requests may be faxed to 972-398-1377. For more information please e-mail: David.Way@InnovativeWayInc.com.
DFW AACC is a non-profit 501(c)(3) organization whose mission is to promote and assist Asian-American involvement in local social, political and civic activities that increase community awareness, improve representation and enhance the quality of life.