The Dallas/Fort Worth Asian-American Citizens Council was established and became a non-profit organization in 2000. It's mission is to give Asians a stronger voice in mainstream society as well as their respective communities. The organization also strives to encourage more Asian Americans to participate in civic affairs by providing leadership training, organizing political forums, and voter registration drives. The mission of DFW AACC is to promote and assist Asian American involvement in local, social, political, and civic activities that increase community awareness, improve Asian American representation, and enhance the quality of life.
2017 Annual Banquet – Sep 9, 2017
Thank you for joining us, and a special thanks to all our sponsors!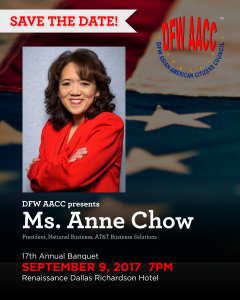 Banquet Payment
Mail-in Membership Form
Join the organization or renew your membership by filling out this form and mailing it to DFW AACC, 420 Maplelawn Drive, Plano, TX 75075 with a check made payable to "DFW AACC".
DFWAACC Membership Form
Online Membership Form
Membership Payment
General Donations
DFW AACC is a 501 (c) (3) non-profit organization. All donations are tax-free.